Activities Report for FY2017
1. Projects on export promotion
(1) The fairs, events, business meetings to promote the prefectural products
① Thailand
a. In-store promotion of Fukushima Peach
| | |
| --- | --- |
| Date | August 5 to September 10, 2017 |
| Venue | 38 department stores such as The Mall Group |
| Detail | We performed in-store promotion of Fukushima peach at department stores in Bangkok, demonstrating its excellent taste and quality. |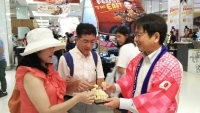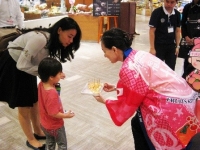 b. In-store promotion of Aizu Mishirazu-gaki (persimmon)
| | |
| --- | --- |
| Date | November 18 to 19, 2017 |
| Venue | Siam Paragon (a department store)/ ISETAN Bangkok |
| Detail | We performed in-store promotion of Aizu Mishirazu-gaki, Fukushima's persimmon at several department stores in Bangkok. |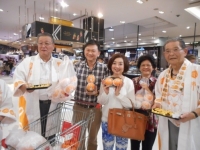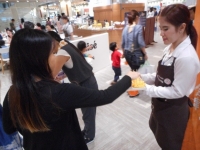 ② Malaysia
a. In-store promotion of Fukushima's wash-free rice
| | |
| --- | --- |
| Date | May 13, 14, 20, 21, 2017 |
| Venue | 9 stores such as Village Grocer |
| Detail | We carried out in-store promotion of Fukushima's rice at supermarkets. |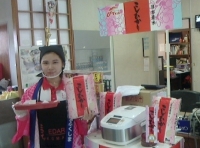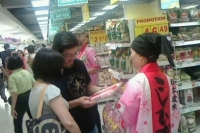 b. Promotion by the Governor
Date
August 23, 2017
Venue
(a)Shangri-La Hotel Kuala Lumpur
(b)Village Grocer (supermarket)
Detail
 (a) In the joint press conference, the Governor Uchibori announced the targeted export volume for the year of Fukushima's rice to Malaysia as 100 ton, and of Fukushima's peach, 15 ton.
(b) In-store promotion of Fukushima's rice and peach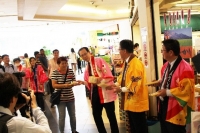 c. In-store promotion of Aizu mishirazu-gaki (persimmon)
| | |
| --- | --- |
| Date | November 18, 19, 2017 |
| Venue | Village Grocer (supermarket), ISETAN Kuala Lumpur |
| Detail | We performed in-store promotion of Fukushima persimmon at stores in Kuala Lumpur. |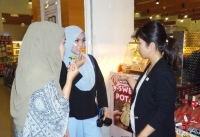 ③ Vietnam
a. Promotion by the Governor
Date
August 25, 2017
Venue
(a)Vietnam Government Office
(b)AEON Vietnam
Detail
(a)The Governor Uchibori's courtesy visit to Vietnam Government
(b)In-store promotion of Fukushima's pear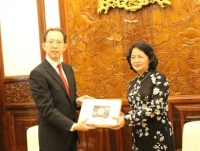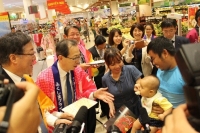 ④ Hong Kong
a. FUKUSHIMA NIGHT (Fukushima Sake event)
| | |
| --- | --- |
| Date | July 27, 2017 |
| Venue | 5 restaurants |
| Detail | We served and promoted Fukushima sake and local cuisines at reasonable price at 5 restaurants in Hong Kong. (Visitors: 333) |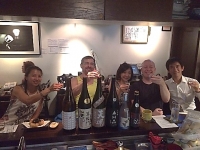 ⑤ The United Kingdom
a. Fukushima Sake Fair in London
Date
October 17 to 19, 2017
Detail
We hold a reception and a business meeting to promote Fukushima sake.
(Visitors: reception 266, business meeting 90)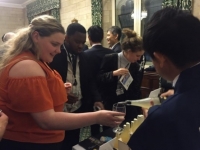 ⑥ Switzerland
a. Reception at "World Economic Forum Annual Meeting" in Davos
| | |
| --- | --- |
| Date | January 24, 2018 |
| Venue | Central Sporthotel in Davos |
| Detail | At the reception "Davos, Japan Night 2018", we served and promoted Fukushima Sake and other food products. (Visitors: 650) |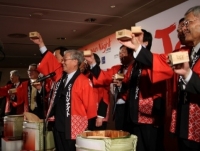 (2) Financial aid to overseas business promotion
① Assisting expenses for participating in overseas business meeting
We assisted a part of expenses for our members to participate in the overseas business meeting and promotion.
Number of cases: 13 (aid up to 50,000 yen per case)
② Assisting expenses for acquiring certification, compliance with regulations.
We assisted a part of expenses for our members to acquire required certification, to comply with regulation of the region or country for their overseas business.
Number of cases: 2 (aid up to 100,000 yen per case)
(3) Organizing the prefecture's trade promotion system
In order to organize the prefecture's trade promotion system, we continued to assign a specialist called "overseas market development manager" to coordinate with trading companies, to have business meetings.
(4) Strengthening overseas market development of the prefectural products
We continued to assign temporary staffs and promoted export survey on the prefectural products, cooperation with JETRO Fukushima, holding of several seminars on trade promotion. Also, we continued to assign a foreign staff to promote Fukushima products overseas and support overseas market development.
2 Developing human resources, disseminating information
(1) Disseminating information on overseas economics
We disseminate helpful information on exhibition events, trade system, regulations of each country received from JETRO Fukushima and other economic organizations, to our members through our website and emails.
(2) Seminars
① Seminars on overseas markets
Date
25 April, 2017
Venue
Corasse Fukushima
Attendance
87
-Session 1-
Theme
Approach to halal markets
-Session 1-
Speaker
Mr. Akmal Abu Hassan (Malaysia Halal Corporation)
-Session 2-
Theme
Promoting Japanese sake overseas
-Session 2-
Speaker
Mr. Shinya Tasaki (International Sommelier Association)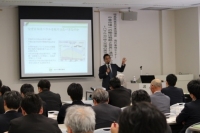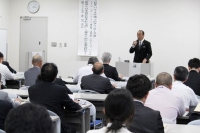 ② Seminars on trade promotion
Date
14 November, 2017
Venue
Fukushima Agricultural Technology Center
Attendance
74
-Session 1-
Theme
Successful overseas promotion
-Session 1-
Speaker
Mr. Takahiro Ichimura (Trade Promotion Division Manager, Fukushima Prefecture)
-Session 2-
Theme
Latest information on overseas market
-Session 2-
Speaker
Mr. Tetsutaro Shimokasa (JETRO)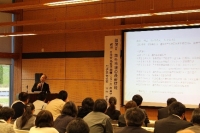 * Co-sponsoring seminars of Fukushima Trade Promotion Council
| | |
| --- | --- |
| 6/2~6/30 | JETRO Fukushima "Export business seminar" (5 sessions) |
| 6/27 | JETRO Fukushima "Workshop on overseas tourists service for inbound" |
| 7/11 | Toho Bank "TOHO overseas business support seminar" |
| 8/23 | JETRO Fukushima "International business seminar" |
| 8/25 | JETRO Fukushima "Seminar on the export for the U.S" |
| 9/8 | JETRO Fukushima "Export business advanced seminar" |
| 9/28 | JETRO Fukushima " Workshop on use of highly skilled foreign human resources" |
| 10/31 | JETRO Fukushima "Fukushima Food Fair 2017 Business matching" |
| 11/1 | "Aizu Mishirazu-gaki persimmon" Departure ceremony |
| 2/16 | Toho Bank "TOHO Asia business seminar" |
| 2/20 | JETRO Fukushima "Business matching ~ Exporting Fukushima food to Thailand" |
| 2/23 | JETRO Fukushima " E-commerce seminar" |